Mobile App Cost to Expect in 2020
Smartphone application running is one of the most profitable business spheres on modern market. As, in 2019, about 40% of people worldwide use smartphones, phone app field revenue reached more than $460 billion, and this number is projected to grow up to $700 billion in the nearest future. Therefore, companies tend to invest into mobile development.
Before developing your own product, you should consider its cost estimate and projected budget. In this post, OpenGeeksLab does not intend to provide exact prices, as every business case is individual and many different factors influence the rates. However, we have prepared the ultimate checklist, which will give answers to all your questions concerning mobile app cost in 2020. So, let's go step by step.
What Factors Determine Mobile App Cost?
Video source: Dribbble
1. Company Choice
A proper development team is a crucial factor while planning app development budget. Leading criteria while company choosing are average rate, proficiency level, portfolio/previous experiences. These factors are usually enough to find most cost-effective option on market. Additional criteria, which may also influence client's preferences include geographical location, brand awareness, etc. A basic Android/iOS development team consists of project manager, developer(s), UI/UX designer, QA specialist.
2. Technical Сomplexity
Apart from team choice, mobile app development prices are affected by app's complexity as well. The more complex your application is, the more it costs. Complexity level is determined by number of features, working time needed, data amount, etc. Accordingly, if business owner wants both Android and iOS app versions, it would cost more.
3. App Load
Application load directly determines final iOS/Android app cost, as it deals with data optimization. Complex problems require complex software architecture and higher optimization standards. To make an app performance smooth, one needs more working hours, i.e., the cost of developing an app becomes higher.
4. Server Solutions
Planning a complex app, one must consider the amount of info processed. To build an application capable of performing all feature actions smoothly, developers implement backend servers. As backend deals with several programming languages, such technology requires additional specialists and costs involved.
5. Third-Party Services
Third-party implementation proved having positive effect on productivity and performance. Niche-specific services aim at making app development process easier and smoother, though there are several pitfalls to avoid, as they may slow down workflow with documentation settlements and prologue paid hours. Besides, third-party services often require fee costs for using their software.
6. Payment Gateway
In-built purchases gain popularity among Android/iOS users, therefore companies tend to implement various payment software options, like Google Pay, PayPal, Apple Pay. Satisfying customers' demand for diverse payment options, business owners win their loyalty and increase ROI index, though while developing process such product seems less cost-effective.
7. Proper Support
To make a successful app means to make an app fitting diverse devices and/or software version.
Designing iOS application, one should be sure about it supporting the latest iPhone device and its predecessor to provide perfect compatibility.
Android-powered devices require more attention, so developers consider not only latest software/device versions, but all operating systems starting from Android 5 (Lollipop).
While designing a web-app one should remember about ensuring support of top browsers like Google Chrome, Safari, Mozilla Firefox, and Microsoft Edge.
Limiting compatibility leads to target audience restrictions, so the more devices/software versions application supports, the better.
8. UI/UX Customization
Important constituent of mobile development budget is application design customization. It includes unique UI/UX solutions and/or animation complexity. The more custom elements your app design contains, the higher becomes the cost. Usually design customization level is bounded to application type, e.g., while developing image-oriented applications with highly customized UI/UX standards, app design cost constitutes a significant part of app development budget.
9. Additional Expenses
Beside developing proper elements, average cost of app development includes additional expenses, covering user support, backend maintenance, hosting services, updates, marketing/promotion. These elements do not influence performance, though they are vital while attracting/retaining target audience. Post-release support is usually excluded out of primarily cost estimate. The company offers it as an additional service.
10. Tech Requirements
The cost of building an app also depends on the clarity of technical requirements given by client. If the task is set in obscure way, developers would require much more time for planning stage, additional client-manager communication, or unsuccessful result analysis. Unfortunately, very often obscure tech requirements lead to misunderstanding and project failure, so being accurate while setting your desires is vital for future success.
Is Mobile App Development Cost Varied Around the Globe?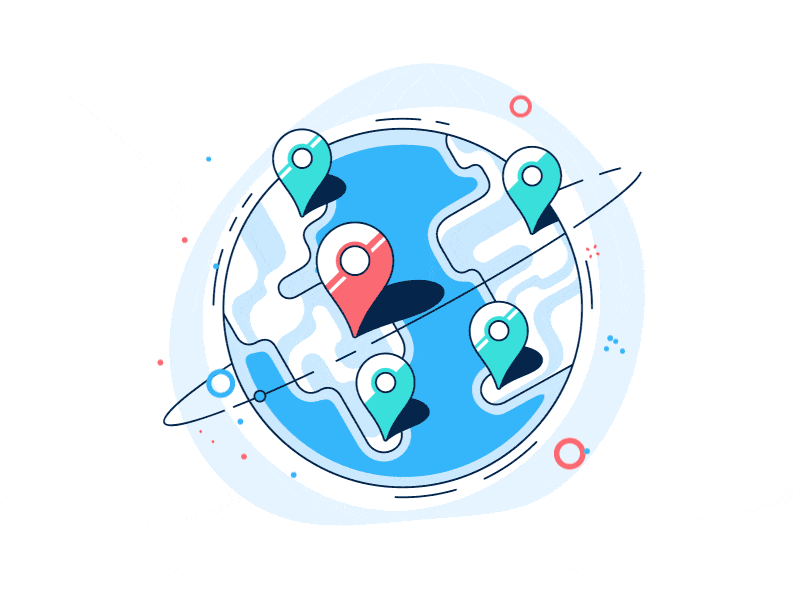 Animation source: Dribbble
Mobile application development cost is highly dependent on company location. Developers from different parts of world set diverse rates on the basis of general market state. Competitive chances, working experiences, tempo of work, or other criteria may influence rates as well.
To give general idea of rates, ranging from marketplace to marketplace, we have excluded personal factors here, making geographical criterion the crucial one.
1. North America
According to stats, North American (Canadian- or US-based) companies provide most expensive solutions costing from $50 to $250 per hour.
2. Australia
Organizations located in Australia offer Android/iOS app development cost at rates varying between $50-$150 per hour.
3. The UK & Other Western European Countries
Western European Android/iOS app development price offers tend being more cost-effective than American or Canadian, and usually stand about $50-$175 per working hour.
4. Eastern Europe
Eastern European agencies seem providing the cheapest solutions among other regions, which cost from $20 to $150 as maximum per hour.
Sometimes rates differ considering software system, iOS app development price being higher in India and South America, while North American region sets higher Android app development costs.
However, higher rates do not always correspond to excellent results – even low-priced companies can provide perfect products. Creating a holistic view onto development team includes profound portfolio study, accurate planning, communication, as far as there is no universal rule. Peculiar cases require particular solutions, so it is up to business owner to find cost-effective budget option for his or her own undertaking.
How App's Complexity Influences Mobile Application Development Cost?
Video source: Dribbble
According to their technical complexity, all apps can be split into three levels:
1. Basic Level
An app is considered a simple one if it possesses basic features, does not require highly customized solutions, does not need integration of third-party services or backend server. Such applications do not process big data amounts and are aimed at building user-friendly interface. Mobile development process of Android/iOS simple app takes approximately 1,000 hours.
2. Medium Level
Middle complex apps have wider range of implemented features including customized UI/UX elements, real-time private chatting, payment gateway options, third-party API integration, simple backend solutions. Android/iOS apps with medium complexity level offer device adaptation (phone/tablet version) as well. Middle complex app usually requires around 1,800 hours to complete programming part.
3. High Level
Highly complex apps provide full feature set accompanied by completely custom UI/UX solutions. Such applications usually offer audio/video content processing, complex design/animation elements, synchronization feature, several third-party service integrations, profound backend having relations to diverse databases. Highly complex apps allow process diverse info, are compatible with various devices/software, show perfectly optimized performance. The cost of building an app like this would be essential, as iOS/Android mobile development period usually lasts 2,400 hours minimum.
How Much Does It Cost to Build a Mobile App Like Instagram, Facebook, Spotify, or Uber?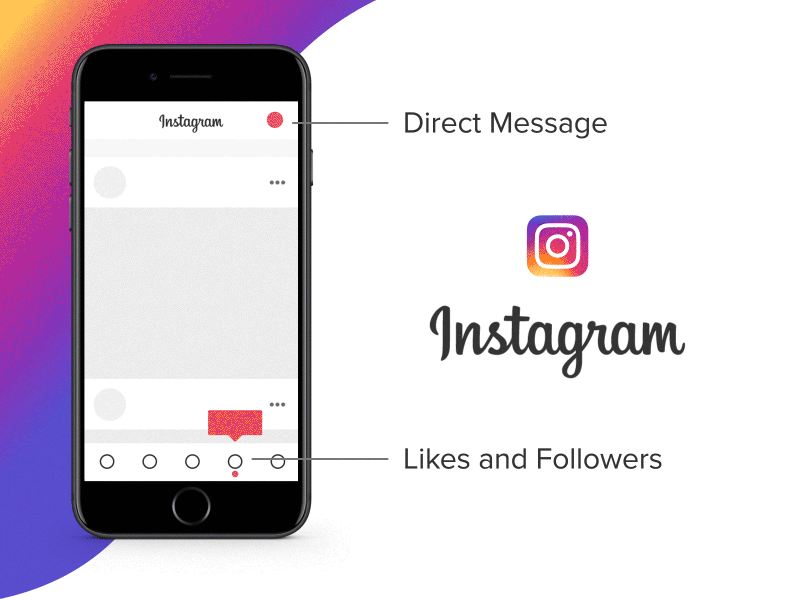 Animation source: Dribbble
A nice option to understand the average iOS/Android app cost is to analyze key market representatives. Judging upon expenses of field leaders, it becomes much easier to build your own app development budget.
Beside the factors listed above, total mobile app development price depends largely upon its type, as it determines the features to be implemented. Let us consider several examples.
1. Facebook
To build a social media platform like Facebook would take a lot of time, due to its diverse features. News feed, private chats, groups, media sharing, video calls together with customized design make it hard calculating the total cost of app development.
The most time-consuming features are believed to be private chat, video calls, and news feed, as they possess wide range of usage possibilities. Time spent on Facebook working-out varies from 2,800 hours to 3,100 hours, which constitute a budget around $350,000-$400,000.
2. Instagram
Another example of social media platform is Instagram, though it has different specification and target audience. If Facebook aimed at interpersonal communication, Instagram is more image-oriented. Visual component privilege determined the difference in building process. Its key features concern advanced profile customization/settings, photo editing possibilities, geolocation, profound searching system.
Ensuring image loading and processing stands for most complex workflow part, while total app development time may reach up to 1000 hours without UI/UX inclusion. Further design solutions take 150-200 hours more. Thus, the cost of developing an app like Instagram at average rate of $125 per hour is estimated from $105,000 to $150,000. However, other sources estimate Instagram's budget about $500,000.
3. Spotify
Another popular app kind is music streaming/player services like Spotify. To make an app dealing with audial content one should consider complexity of streaming player first. If business owner aim at creating unique solution, he or she must be prepared to pay for time- and effort-consuming process. Together with additional features like advanced search, libraries, artist/album ranging feature, suggestion engine it would take about 850 hours minimum, which result in $110,000-$170,000 budget at average hourly rate.
However, developing Spotify-like app budget one should remember about other expenses primarily excluded out of mobile development budget. First of all, preliminary cost estimate never covers high music licensing and music hosting prices, as well as advertising, browsing, etc.
4. Uber
The last example worth considering is on-demand app type represented by Uber. During several years Uber-like services took off and occupied a significant part of modern market due to their service-providing convenience and user-friendly interface.
The main pitfall while designing Uber-like app is that you need two different apps instead of a unified one. On-demand services usually aim at uniting suppliers and customers; thus, they design two different app versions possessing different key features.
As for customer's version, the leading features usually are booking options, convenient service search, diverse payment possibilities. Therefore, essential work-time part would be spent onto various payment gateway implementations and ensuring multiple booking solutions. The average amount of work to build an app for customers only varies from 420 hours to 525 hours.
Service supplier's version is less time-consuming, so it requires less expenses. Among key features here stand tracking/geolocation, status updates, reply possibilities. To make an app for service providers average development team requires up to 400 hours maximum.
Admin panel and UI/UX solutions would take some more time, so, as a total, Uber-like app demands from 950 hours to 1200 hours of work, which result in budget about $120,000-150,000.
Start Your Own Idea Right Now!
As you see, mobile app cost depends on various factors like complexity level, location, development team, supported services/third-party implementation, post-release expenses, etc. To build an app with optimal app development budget in 2020, you should consider all of them, or contact us to get a professional cost estimate for your unique app case right away!
Similar posts
Crypto society has long discussed that tokens from Telegram's ICO (I...
June 18, 2019
The project's purpose determines what technology stack to apply Not ...
April 19, 2019
Chatbots have confidently occupied interaction between businesses and ...
August 23, 2019